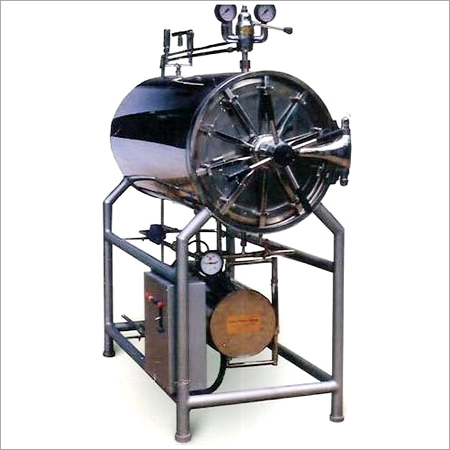 Product Description
Since our inception in 1995, we have been regarded as a prime manufacturer, exporter and supplier, instrumental in putting forth supreme grade Steam Autoclave Sterilizer. This sterilizer is manufactured under the prudent observation of ingenious professionals using the best grade components and modern techniques as per predefined ISO norms. Known to remove germs, toxic particles and other contaminants properly, it renders aid in carrying out various medical, dentistry and body piercing applications in hygienic manner. we offer this Steam Autoclave Sterilizer to the clients at marginal prices.
Further Details:
We make steam auto claves in assorted capacities and models as per the demands of clients. These can bring forth steam under the pressure and permit top-grade sterilization. Made-up by using first-rate quality steel, these are simple to install and function and are employed in several universities, tissue culture labs, hospitals, scientific research institutions and other such places.

Our customers can utilize an unequaled quality of steam auto claves from our end. These generate steam under the influence of pressure and allow the best sterilization. These are available in various sizes and models as per our clients specifications and are fabricated from the best quality raw material and components to ensure a longer service life and efficient performance.

The salient features of these are as follows :

Gmp model
Pre-filter provisioned at air inlet and outlet
Class 100 filter given at air inlet in enclosure
Mimic display on the control panel
In micro processor for procedure work with 10 programmes
8 channels temperature scanning with processor
Document such as oq, pq, dq, iq supplied.
Cooling attachment for fast cooling
Construction: First-rate quality and flawless finish. All these autoclaves are made with 8 gauge aluminum. The drums are deep drawn. The cover is die casted. Lockup of lid by 6 nuts with rubber gasket seal fixed in between (no metal to metal fixing). Pressure gauges, two safety valves, supple metal tubing to exhaust air. Includes outside stand, inner tripod rack.

Features:

Accoutered with double stages "over pressure" protection system unifying a calibrated uninterrupted bleeding Pressure stopcock as well as pressure release weight valves.
Pressure Gauge : Color coded pressure gauge displaying internal chamber states in the duration of the cycle. Sterilization area in green color is displayed from 15 psi to 20 psi (or 1.034 bar to 1.378 bar) that is equal to temperature of 121°c to 127°c. Dial sizing : 2.5". Dial show measuring in 2 units (i) kg/cm2 (ii) lb/inch2 Full scale control of pressure gauge is 0-30 lb/ inch2 or 0-2 kg/cm2 Warning zone in red color.
Accoutered with steam liberation /control valve as well as supple metal exhaust tube.
For certainty of quality each autoclave is well-tried to the factor of successful sterilization.
Elective "TST" indicator stickers give autonomous proof that the correct accumulation of steam, temperature and time has been attained for successful sterilization.
Every aluminum deep drawn circular-knit structure of base unit.
Heavy cast aluminum cover with nut of six wings.
Simple to use topmost loading autoclaves.
20 min. of sterilizing cycle at 121º C.
Steam Sterilization Cycles: Gravity, Liquids and Vacuum

The Liquid Cycles

Liquids depend on the Fluids Cycle to obviate a process illustrious as "boil-over." Boil-over is merely a fluid boiling so violently that it flows over the top of its instrumentality. Boil-over will happen if the pressure level in your autoclave chamber is released too rapidly during the exhaust form of the cycle. Significant fluid volume can be misplaced to boil-over, and this can effect in outcast spills on the bottommost of the autoclave enclosure, which must be cleaned up to obviate hindering the drain lines as well as the subsequent repair costs to the section.

To help in preventing boil-over during the exhaust form, the enclosure pressure must be discharged slowly. This procedure is managed by the sterilizer's control system. Controlling the exhaust rate permits the fluid load to calm down as the encompassing chamber pressure is lessened.
The exhaust pace for a Liquid Cycle is different from the modular Gravity or Vacuum Cycle, where the chamber pressure is discharged quickly. To preclude boil-over, the enclosure pressure must be decreases slowly to permit the temperature of the load so as to continue below the boiling point. If the pressure is fatigued all at once, the load temperature will go above its boiling point, consequent in instantaneous as well as violent boiling.

Steam Sterilization Cycles: Boil-Over

The autoclave function should be kept in mind, particularly for large carboys or beakers. For example, a 30-minute Liquids Cycle for a 500 ml flask won't needfully attain the identical results if sterilizing a 5 L flask.
It is suitable to practice to (a) validate your fluid loads with tightly sealed biologic indicators and (b) minimize container quantities so that cycle time remains controllable. Steam sterilization relies on three parameters to obviate organisms and microbes: temperature, time and pressure. And these parameters can be influenced into various cycle directions to sterilize assorted types of loads. Nevertheless, the cycle demand for each load type--such as media, glassware, autoclave bags and pipette tips--can differ significantly.

The Gravity Cycle

The long-standing "Gravity Cycle" is the most simplest and common steam sterilization cycle. In the duration of the Gravity Cycle, steam is pumped-up into an enclosure incorporating ambient air. Because steam incorporates a lower density in comparison with air, it ascents to the top of the enclosure as well as eventually force out all the air. As steam stuffs the chamber, the air is forced out via the drain vent. By impelling the air out, the steam is capable to instantly contact the load and start to sterilize it.

At the ending of the cycle, the steam is released via the drain vent. Nevertheless, the loading can still be hot and perhaps wet. To inscribe this issue, gravity autoclaves can be accoutered with the post-cycle vacuum attribute to aid in drying the load. The sterilizer functions a normal Gravity Cycle and after the loading is sterilized, the vacuum clouts steam as well as condensation via the drain vent. The longer the vacuum system works during the dry stage, the dryer and cooler goods will be when abstracted from the chamber.

Gravity Cycles are usually employed on loads such as bio-hazardous waste, glassware (autoclave bag waste) and covered and unwrapped devices.