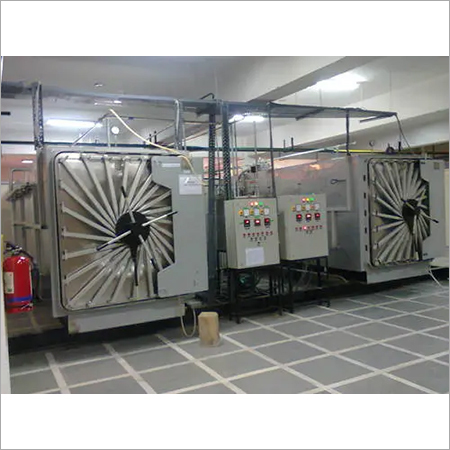 Product Description
Due to our advance infrastructural base and huge experience, we are involved in providing a commendable array of ETO Gas Sterilizer. It is widely used for the sterilization of healthcare devices like medical & pharmaceutical products . This sterilizer make sure that safe and sterile product is delivered in the market. Our Ethylene Oxide Gas Sterilizer is highly effective eto sterilization system that is safe and Eco-friendly. Moreover, it is also custom made according to the specifications mentioned by our customers.
Ethylene Oxide Gas Sterilizer (Ethylene oxide (eto) gas sterilizer systems)
The advanced performing ambit of ETO gas sterilizers is proffered to our customers with utmost precision. Ethylene oxide gas sterilization is a technique of sterilizing new medical devices and heat sensitive instruments. A wide ambit of light-handed devices is sterilized at reduced temperature. This method is an essential part of the modern cssd. We offer the most impressive ETO sterilization system, which is harmless to use and eco-friendly. Furthermore, these are also custom-made as per the specifications cited by our customers and are made-up employing optimal quality materials and parts.

Owing to our highly-modern infrastructural base as well as vast knowledge, we are involved in providing a worthy array of ETO (Ethylene Oxide) Gas Sterilizers. These are mainly employed to sterilize medical, surgical, maize starch, pharmaceutical products and food and spices products. The offered products are made-up by our artful professionals who are modified with improved industry-experience of the domain. Apart from this, our clients can avail the entire range at industry leading prices.
Ethylene Oxide (ETO) sterilizers are mainly employed to sterilize surgical, medical, food and spices Products and pharmaceutical products and maize starch products, which cannot assist customary high temperature steam sterilization - such as devices of plastic packaging, company electronic components or plastic containers. Usually the ETO utilized for gas sterilization is amalgamated with diluents such as carbon dioxide in assorted proportions from 10 % ETO to 90 % ETO. The usually utilized gas density in the sterilizers is 450 to 1000 mg/lit of enclosure volume (measured as pure ETO).
Features :
Single and double door with Hinged or Sliding door choices to cater client specific requirements.

Dimple Water Jacketed for finer regularity of the heat distribution. (Technology for accelerated Sterilization cycle as well as low cost operation.

Gas evaporation system is given to insure gaseous sterilant even at reduced temperature.

Gas circulation system in spot to attain consistent density of ETO gas. This is significant for enclosure volumes above cubic meter.
Operation:
Manually

Fully Auto Control System

Semi Auto control System

Relative Humidity Recorders and Sterilization Process Temperature

Fully Automated PLC with PC Base Power with all Parameter recording

as well as cycle graph Printing artifact

Contamination Seal to preclude cross-flow of air between the cleaned as well as un-clean orbit.
Sterilization Phase :
Then the load shifts through a long and convoluted sterilization cycle. Demands of such a system are:
Accurate temperature control

Accessibility of the control system

Accurate pressure as well as vacuum control

Elementary displays of procedure phases

Consecrated customer recipes

Auto batching liberation via tolerance tests

Reporting

Security devices between actuators

Alarms system

Shut down schemes
EtO Sterilization Cycle
There are at least three phases in a distinctive EtO sterilization cycle:
Preconditioning

Sterilization

Aeration (Degassing)
Cycle time is normally more than 14 hours.
Preconditioning
Preconditioning readies the enclosure environment to run into the perfect conditions for pressure, temperature and humidity. Firstly air is separated from the enclosure to permit for gas onset. A leakage trial is executed, to insure that environment and working staffs are safe. Next, some steam is administered into the enclosure and humidifies the loading, since EtO is only efficacious in a humid environment. The chamber is heated up by hot water or steam, which is existing in the jacket. Usually the jacket is maintained at the identical temperature 24/7 to lessen temperature undulations.
Sterilization
The second stage is the actual sterilization process. The EtO gets into the chamber via evaporation with a definite sum of steam to keep the humidity level up as well as to make sure the EtO is reaching to the all parts of the load. When the needed concentration in the cavity and load is attained the actual sterilization stage starts. The lower the gas property in the chamber, the longer is the sterilization timing. As EtO is engrossed by numerous types of plastic materials it is essential to support the concentration at the correct level. To attain this EtO it is erstwhile added to the enclosure after a while. It is of leading value to insure the befitting concentration level of EtO in the assembly so as to achieve effectual and innocuous sterilization.
Aeration (Degassing)
Aeration can be considered as the most crucial and extended part of the EtO sterilization cycle. As commented, materials such as rubbers or plastics assimilate gas and if given to patients, the toxic gas could harm their body tissue! For this ground it is much important to have an inordinate aeration stage to take away any leftover EtO gas and to permit absorbed gas to vaporize again from the sterilized parts. This is executed by circulating HEPA filtered air over the load at a temperature of 30°C to 50°C. This is erstwhile done in the sterilizer's enclosure, but sometimes the sterilized components are located in the specific aeration cabinet. If the sterilized items are shifted from the enclosure to the aeration cabinet then hard-and-fast safety measures should be followed to prevent EtO gas vulnerability to the people who execute this function. A commonly utilized time period for this aeration management is 48 hours that results in a much drawn-out instrument reversal. A specific infrastructure is needed, with gas tight airing pipe to the roof crowning or to a catalyzer. The sterilizer cannot use the hospital's ventilation system because it is too dangerous. The particular ventilation piping has to be well-tried for gas leaks the whole way as this is the lonesome way to lessen the risks.
There are some benefits, nevertheless. An EtO sterilizer can incorporate a very large enclosure, even up to 7m³. They are frequently utilized for the sterilization of large amounts of products, which cannot be sterilized by steam. When non-woven materials or gauze such as disposable gowning are factory-made, they demand to be sterilized before the entrance in hospital. These are frequently sterilized by EtO because steam will harm or contort these materials. To sum up, EtO sterilization should be utilized only when another technique is not suitable.